North America Voice Dialogue (NAVD)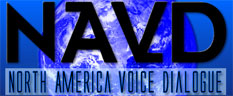 34305 Solon Rd Suite 55
Solon, OH
44139
USA
888-340-1644
North America Voice Dialogue is located in the southeast suburb of lovely Cleveland, Ohio. The institute site is a professional and welcoming environment for concentrated and energizing exploration of personal problems and potential. NAVD has easy access to air and highway transportation. Not limited to on site work, North America Voice Dialogue also offers consultation in your location, coordinating follow-up work by phone after the initial relationship has been established.
Offering Continuing Education Credits
Offerings
While offering general classes, group and individual work in Voice Dialogue and the Psychology of selves, NAVD offers a unique blend of workshops and programs geared toward specific interest groups as well. Applying the principles of the Aware Ego Process, bodywork, work with dreams and meditation, we provide week-long, weekend and individual opportunities for growth and healing to a variety of special interests:

-Seminars for Voice Dialogue Practitioners working with Dreams
-Programs enhancing the Body/Mind Connection using Voice Dialogue to connect the two
-Intensives for professionals in the Entertainment world
-Workshops for Mental health professionals dealing with burnout
-Understanding Relationship and how it fits in your life and how to create it or survive it
-Sitting with Selves: "Who" supports or distracts from your meditation practice and your process of awakening?
-Dealing with Compulsions of all kinds and who in us is involved in them
-Creative Block: How to find the block and move around it
Online schedule available at www.navdworkshops.com
Staff Members
NAVD's staff brings a unique blend of training and orientations:

Dianne Braden, MA, LICDC and Jungian Analyst has a 20 year background in languages and addictions treatment. She has a 10 year private practice in analytical psychology, and Voice Dialogue facilitation; as well as more than a decade of individual training with Hal and Sidra Stone.

Iudita Harlan has been a body/mind therapist since 1987. She specializes in Hellerwork Structural Integration and is an experienced Voice Dialogue facilitator. She has been senior staff for Hal and Sidra Stone in their California intensives since 2001. She specializes in individual and group facilitations.

Jonah Koslen has been a consciousness teacher for 7 years. With a background in Buddhist meditation, Integral Philosophy, professional music, computer graphics and web design. Jonah as a Voice Dialogue facilitator, adds a practical dimension to the institute's goal of reaching a variety of populations, including the performing artists and committed meditators.